Inclement weather, workplace violence, and other emergencies happen all too frequently. In an emergency, can you quickly, clearly, and effectively alert your employees, students, visitors, etc. no matter where they are? If not, that means you need a Mass Notification System (MNS) that has multi-channel notifications.
Explore our top three reasons why you need multi-channel notifications in an emergency:
1) Redundancy is Key
Research has proven that a redundant means of communication is necessary to persuade individuals to act during an emergency. According to Human Communication Research, people who received three redundant messages coming through at least one synchronous communications source (e.g., phone, desktop, Alert Beacon) perceived the urgency of the situation quicker than those who received messages through asynchronous channels. Thus, multi-channel immediacy helps heighten urgency more quickly.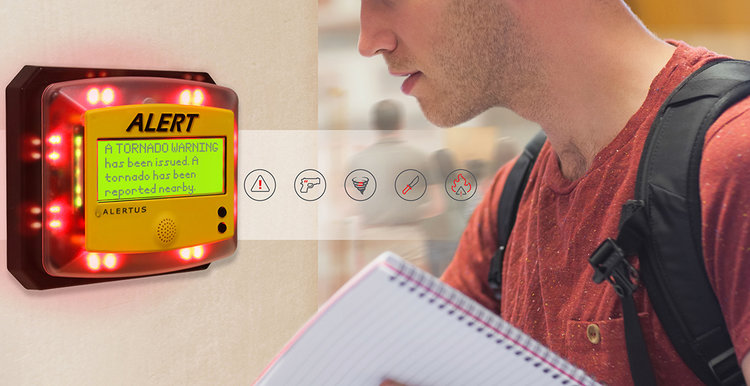 2) Code Compliant
It's important to have the ability to not only communicate but do so intelligibly in any emergency, whether it be fire, weather, or human-aggressor. Having notification devices that are code compliant are important components of any mass notification system. Devices such as Alert Beacons® and VoIP Phones are notification channels that incorporate both audible and visual notification and are compliant with many mass notification codes and mandates. For example, codes such as the Americans with Disabilities Act (ADA) ensure that people with disabilities have the ability to receive and understand the message to lead them to safety.
3. Indoor and Outdoor Communication
No one person or facility communicates the same way. That is why customizing your MNS to be effective for your facility is critical. You need to take into consideration your facilities' internet connection, visitors (who may or may not have tablets or cellphones) and your employees who are sending data back and forth across the server. Inside your facility, you can use Desktop™ Notification, PA systems, Mobile Phones, Digital Signage, and more to drive emergency notification across multiple channels. Outside, you can utilize HPSA, LED Marquees, strobes, to get your message across.
Remember, a unified Mass Notification System (MNS) that utilizes your current infrastructure and leverages existing communication tools into powerful emergency alerting devices are essential components that enable you to reach everyone in your organization, anywhere.

Alertus Mass Notification Solutions
Alertus offers a wide array of additional notification solutions to facilitate comprehensive alerting, including the wall-mounted Alert Beacon, LED Marquee, VoIP phone alerting, and mobile apps. These solutions effectively communicate emergency alerts throughout your organization to keep staff and visitors safe.

If you're looking for free resources to help you or your organization better understand and facilitate emergency management, please contact us